In the hours and days after the terrible terrorist attacks in Paris, many people on various social media platforms circulated the comforting words offered for times like these by Fred Rogers: ""When I was a boy and I would see scary things in the news, my mother would say to me, 'Look for the helpers. You will always find people who are helping.'"
There is great solace in focusing on the helpers. The helpers are people who choose good when others have unaccountably chosen evil. The helpers are people who, with bandages and kind words and leadership, start to put the world back together.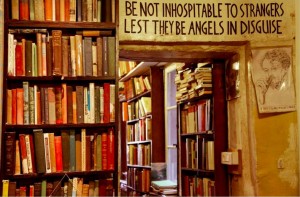 There is also great solace in books. Along with Mr. Rogers's exhortation to look for the helpers, an image of the Paris bookstore Shakespeare & Company has been flying through the ether of our shock and sadness. BuzzFeed tells us that the bookstore sheltered people during the attacks, and the story has traction partly because of the sublimely appropriate words on the wall, but mostly, I think, because it resonates with a deeply held truth: we recognize that books have the power to shelter us. When Shakespeare & Company took people in, the store made literal the metaphoric work of books, which save us and sustain us in so many ways.
In times of crisis, we turn to books for comfort or catharsis. We learn from books how to face villains, how to be heroic, and how to live our regular lives with grace. Books give us insight into the lives of people different from ourselves, and they teach us to value those differences. Books anchor us and save us all the time, in ways that are seemingly inconsequential but that matter deeply. They make us who we are. They make us better than we were.
It is no surprise that a bookstore would be a refuge. It is the most natural thing in the world that people would find safety in a place filled with words and stories and knowledge and hope.
I'm sure Fred Rogers knew that books are helpers, too.