Virginia Zimmerman writes novels for young readers and teaches literature at Bucknell University to somewhat older readers. She loves chocolate, cheese, swimming in the Mediterranean Sea, reading aloud to her children, and getting lost in a good book. She hopes readers young and old will get lost in her books, The Rosemary Spell, published in 2015 by Clarion Books, and PINK! A Women's March Story, published in January 2022 by Running Press Kids.
Virginia recently appeared on WVIA Keystone Arts Edition. You can watch the program here.
Pink A Women's March Story appears on Kirkus Reviews list of the 40 most-anticipated books of 2022!
You can watch a video about the making of Pink here.
In a starred review, Publisher's Weekly calls The Rosemary Spell "enthralling" and "deftly plotted." Kirkus says, "…the addictive flow of magic and suspense will keep pages turning until the very end."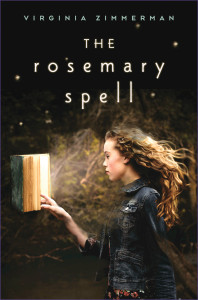 Watch Virginia read from The Rosemary Spell here.
Watch a trailer for The Rosemary Spell here.